So the hubby and I have been debating about whether or not we should get a puppy. I've never had dog (rather traumatic for a child, I know), but Chris has. We have two cats now, Hera and Abu.
This is Hera... She's a Diva.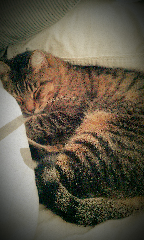 This is Abu... He's a snuggler.
Anyways, while driving around we came across a puppy palace. OMG. There was so much cuteness I didn't know what to do with myself.
This is a Shiba Inu.
This is a Puggle (Pug/beagle mixed).
I'm hoping I can convince him to get me a puppy for Christmas or my Birthday!! You know, wrapped in a bow! =]