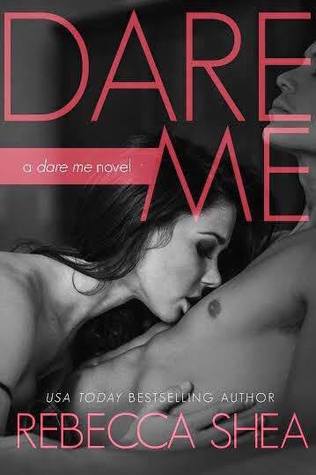 Book Description
Five coworkers.
Four drinks.
Three glances.
Two fleeting smiles.
One dare.
A dare that will change my life.
That's all it takes to send me plummeting into the arms of the mysterious Holt Hamilton. Behind his crystal blue eyes is a secret, one that screams danger but calls to me anyway.
My name is Saige Phillips.
I never walk away from a dare.
AVAILABLE: March 28, 2016
Dare Me is the first book in Rebecca Shea's new series and also the first book I've ever read by this author. I really enjoyed this author's writing and the way she SURPRISED me with this story. This blurb doesn't seem to do this story justice and it was so much MORE than I thought it was going to be. I really, really enjoyed this one. And look forward to reading more from this author in the future
.
Saige Phillips didn't have an easy life growing up. Right before Saige thirteen her whole world changed when her family lost everything and had to move from Chicago back to for mother's family farm. And on her thirteenth birthday, she lost her father. That loss changed her forever and stayed with her, never really able to move past it.
Fast forward ten years later, Saige is back in Chicago working at one of the most respected aviation companies in the country. She loves her job and the new friends she is making. But with her new life, her nightmares remain. But with one dare, her life (again) changes forever. That one dare leads to a night with her boss, Holt Hamilton, that leads to a relationship that either one expected.
Holt has secrets of his own, ones that could destroy the relationship with the one woman that has come to mean more to him than anything and everything else.
Rating: 4.5 out of 5
**I received an ARC from InkSlinger in exchange for a honest review.**
OTHER PLACES TO FIND ME:
Blog: http://alysenovak.blogspot.com
Facebook:https://www.facebook.com/AlyseNovakBlog
Twitter: www.twitter.com/alyseypoo21
Bloglovin': https://www.bloglovin.com/alyseypoo21
Google+: https://plus.google.com/+AlyseNovak
Goodreads: http://www.goodreads.com/alyseypoo21